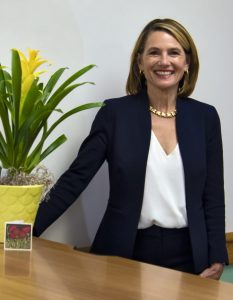 On June 1, 2021, Kathleen Berk became the third Executive Director of VSHA since it was established in 1968, succeeding its previous, long-time Executive Director, Richard Williams.
The VSHA Board of Commissioners' appointment of Kathleen as Executive Director marks the beginning of a new chapter in her extensive, 30-year career in the affordable housing sector. In her many roles during her career with VSHA, Kathleen has worked diligently in support of VSHA's mission to promote access to and expand the availability of affordable housing in Vermont. Most recently, as Director of Housing Programs Administration, she developed and cultivated robust programming that assists thousands of Vermonters in securing and maintaining housing and supports rental property owners toward maintaining the supply of affordable, safe, decent housing. As a member of the Housing Committee and of the Section 8 Sub-Committee of the National Association of Housing and Redevelopment Officials, Kathleen also works at the national level to address administrative, legislative, regulatory, and funding issues, and to recommend actions and policies related to housing programs.
Kathleen's appointment as Executive Director also represents a new chapter for VSHA, as it grows and evolves to meet the changing housing landscape and needs of Vermonters. The Agency is well-positioned to meet the challenges of the present and the future under her leadership, which is informed by her experience and expertise in the administration of public and affordable housing programs, and is guided by her commitment to the mission and staff of VSHA and to community partnership.